WEATHER:
ACCESSGULFCOAST:
NEWS:
GOVERNMEMT:
KAYAKING:
KIDS STUFF: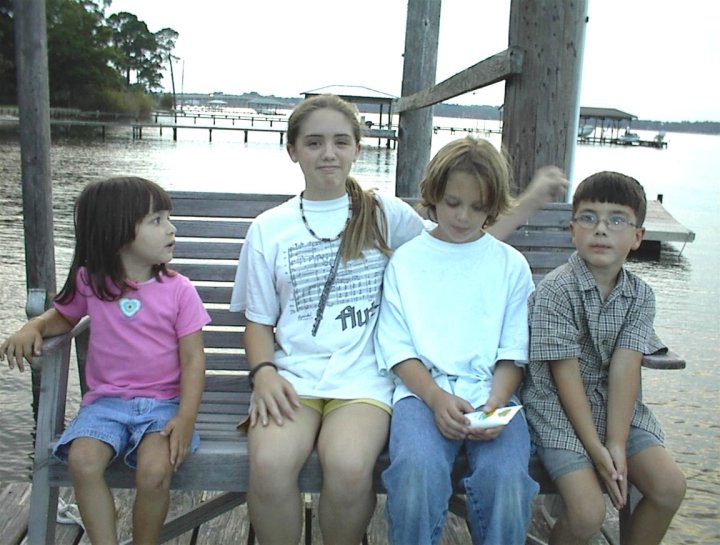 :
EDUCATIONAL:
OUR GUESTBOOK:

TIDE AND CURRENT PREDICTOR:
Arlo and Janis
Newspaper Links:
US Charts:
KidZone:
P'cola Forcast:
USA Radar:
Buoys:
Washington Post:
CNN:
USA Today:
Miami Herald:
CNNSI:
ESPN:
Florida Lottery:
Download.com:
Yahoo:
Medicinenet:
Healthcare Directory:
Garden Guide:
Lowes:
Pensacola OnLine:
Visitor's Guide to P'cola:

Welcome to Paradise Beach!
Welcome to our home page.

Our family consists of Dad (Dave), Robin (14)the animal expert, and David(11)the rollerblader. We live across the street from Perdido Bay which seperates Florida from Alabama. We live on the Florida side in an area that is called Paradise Beach. There used to be a big hotel here in the fortys that had shady beaches, quiet charm, live bands and dancing and dinner. It entertained not only local people but the Navy seaplane pilots-to-be that were living in houses that were duplexes of three apartments each. These apartments were built in the early fortys and later were renovated to become single family houses. That's what we live in as do about half of the neighborhood.

The flavor of the neighborhood is that of Florida, laid back and casual. We'll try to keep this page like that, and welcome your comments on how to do just that. Click Here to visit the neighborhood. It will take a few moments to load but it's worth the wait!

Sit back and surf our pages, remmembering that we are still learning and improving.
---
This school year will be an interesting one. One in her first year of High School, and one in his last year of elementary school. The three of us will try to tackle whatever comes our way. It is neat to be going to High School Football games and cheering the team on. The interests of the kids is starting to change from toys to Japanese Anime and computers. The social aspect of life is starting to take on a much greater importance. The events of September have changed the kids too. The newspaper is being read now and articles are being clipped. TV news channels are being watched in addition to childrens programs. And money has taken on a new meaning with their wants more expensive, saving is now the way to get something they want. It's just the three of us now, and a brave new world awaits us.
Enjoy the pages this page links to and if so inclined, please sign the guest book or send us e-mail. We welcome your comments and suggestions for additions or changes.
And the beat goes on!
voiles@peoplepc.com

Paradise Beach
Perdido Bay, FL


This page has been visited
times since May 2000.
The previous two years saw over 1000 hits.

OUR GUESTBOOK: